The earliest settlements in Nusfjord dates back to 425 BC. Our unique cultural heritage makes the village one of Norway's oldest and best preserved fishing destinations, with a long- standing tradition of seasonal cod fishing. In the 'golden age' of Nusfjord, over one thousand people inhabited the village centre, but today only nineteen people can call Nusfjord their permanent home.
All events can be coupled with a selection of adventures and activities for your guests. We are happy to tailor an itinerary for your group! Send us your request for a seminar package today.
__
«Nusfjord is unique and the most beautiful place in the world with a rare and intimate vibe. Everyone are happy in Nusfjord, with great food, great facilities, great options for conferences and comfortable cabins. The most important is though the vibe from a welcoming staff i this rough location. I have never experienced anything that comes close to create the same kind of personal chemistry between business people, than the one you get when you fish for cod onboard the boat in Vestfjorden, stand waist high in fish gut and filleting, and end it all in the wood-fired hot tubs by the ocean. It's absolutely breathtaking and real. In my mind this is the best experience Norway has to offer.»
— Stig Bech (previous partner at law firm BAHR and now CEO of Solon Eiendom) has had over 40 corporate trips and seminars in Nusfjord since 2016
Weddings and Special Occasions
The resort can host up to 129 people, with the possibility of expanding to nearby hotels for an additional 94 people (only 5 minutes walk from the resort). We also have partnership agreements with luxury yachting companies providing extended sleeping arrangements in the harbour. Our esteemed Restaurant Karoline sits 140 people for a gastronomic experience. Whatever the occasion – we will tailor exquisite and personalized packages to suit your needs.
Our events are known for superb service, fine dining and wines, and thoughtful romantic touches. All events can be coupled with a selection of adventures and activities for your guests.
Grand yet intimate. Rustic yet modern. From harbour soirees to moonlit celebrations and boathouse dances, we ensure you a memorable event in breathtaking surroundings. Nusfjord Arctic Resort offers packages for all occasions — from wedding celebrations to private group getaways.
Dining / Special Events Capacity: 140 people
Our sleek and modern conference room 'Old Bernhard' can seat up to 70 people, and is located just above Restaurant Karoline. The venue enjoys a panoramic view of the harbour. Capacity: 70 people
The Loft is located above our old general store (Landhandleriet). It provides rustic surroundings, and can host up to thirty people. The conference space enjoys a beautiful view of the harbour and mountain scapes, and is ideal for smaller groups and private meetings. Capacity: 10 people
Special Events The Cod Liver Refinery is one of our historical buildings. It was built around 1910 and produced the infamous fish oil which was used for for industrial and medicinal purposes, keeping Norwegians nurtured with Omega 3! The venue can be adapted to your needs with a bar and dancefloor. Capacity: 140 people
Dining / Special Events This venue takes you back to Nusfjord's golden days as a thriving fishing village. The boathouse can be rented for special occasions, where our chef's team invite you to en- joy exquisite food experiences with our finest ingredients. The boathouse is one of Nusfjord's protected buildings, and its structure dates back to 1877. Capacity: 20 people
The pier is an ideal place to welcome your guests with a glass of sparkling champagne and a taste of our traditional bacalao, or for a more intimate sit-down wine and dine to the sound of waves hitting against the polished rocks underneath the wooden dock. Part of the harbour can be rented as a component to your special occasion.
Are you in for a fresh and beautiful bespoke experience in nature? We will host your dinner or event in the outdoor location Mellamvatnet. Located a short 10 minute walk from the resort, this space can be rented for smaller get-togethers and experiences. From an intimate concert to campfire gatherings and fine dining experiences, this open air location provides a stunning cinematic backdrop to your event.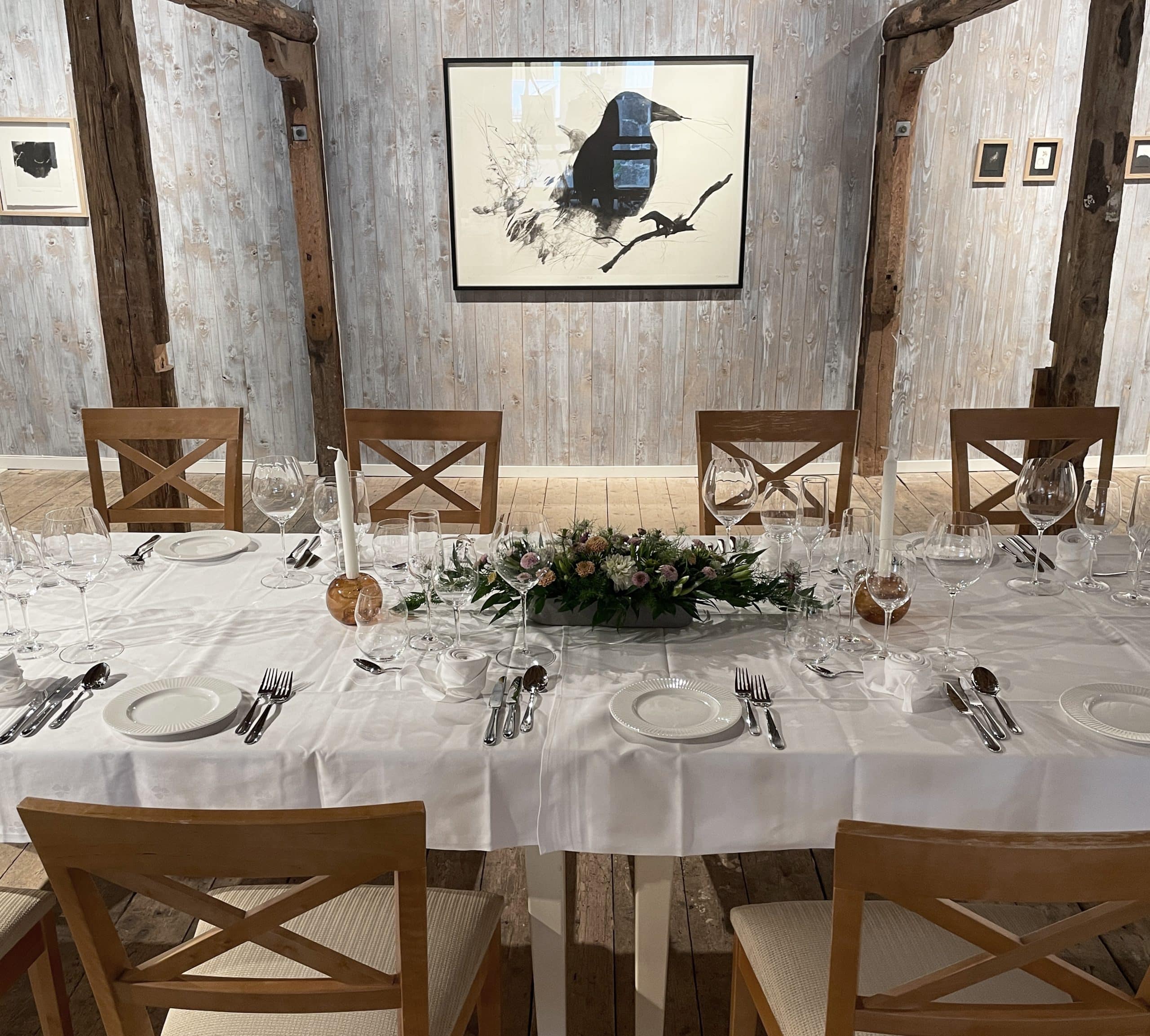 Salteriet Gallery Nusfjord
In the heart of Nusfjord is Salteriet, a salt house where fish roe was previously salted and stored. This salt house building has since been transformed into an art gallery where art is displayed over two floors.
The gallery venue has the capacity to host ten people for private dining and 60 people for aperitif and mingling. A beautiful and intimate venue surrounded by art from great artists.